Our latest fitness Challenge for Warrior Members!
A squat is an essential human movement that everyone should be able to perform. And apart from that, it is a movement that will dramatically help your stances and your kicks.
So start with trying to achieve a basic full squat (3 points) then work towards a perfect 10 score if you can do all three exercises.
THE CHALLENGE
Practice your squats outlined below, starting with the Full Squat, working towards achieving the Overhead Squat and Side Squats.
When you are ready have an instructor assess your ability and give your score:
3 POINTS – you can achieve a FULL SQUAT
3 POINTS – you can achieve an OVER-HEAD SQUAT
4 POINTS – you can achieve SIDE SQUATS
THE PERFECT SCORE – 10 POINTS
You can have several attempts over the next few months, and your instructor will give you training tips and advice on how to improve.
GOOD LUCK!
FULL SQUAT
Squat all the way to the floor with feet flat on the floor, knees pointed out
Keep your back straight with the head up and eyes forward
Pause at the bottom position stand up keeping your balance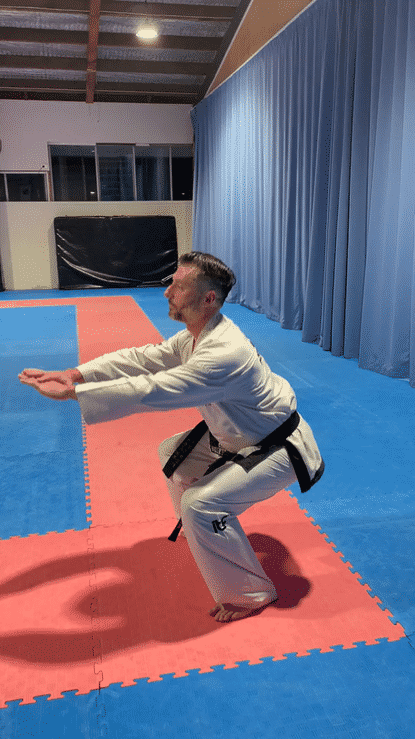 OVERHEAD SQUAT
Squat in the same way as the full squat while holding a stick above your head
Keep the elbows behind your ears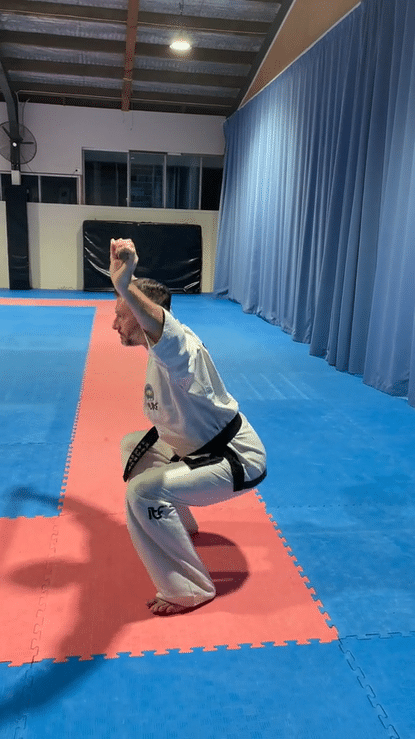 SIDE SQUATS
Start with the feel two shoulder widths apart
Drop slowly to one side to a side squat position, both heels on the floor
Push up and over to the other side
Repeat